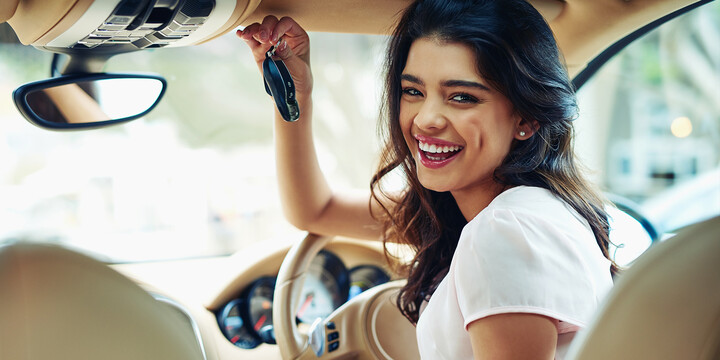 how to identify the right car
how to identify the right car
Our identifying the right car guide covers each aspect, prompting you to consider the options, ask the right questions and help you pick the right car.
Never has there been a greater choice when it comes to both new and used vehicles. So how is it possible to make the right choice between all the various makes and models, especially with all the enticing advertising? And is it better to buy new or something a little older?
Your car is also a mobile sanctuary, office, dog carrier and so much more and each person will have slightly different needs.
Lifestyle will certainly play its part in determining which of the various body styles and different engine types you should consider. And the car is usually second in worth only to one's home, so ensuring you make a cost-effective and affordable choice is perhaps most important of all.
So whether you need an efficient city car, rugged 4x4 or premium saloon, our sections cover each aspect, prompting you to consider the options, ask the right questions and help you pick the right car.
Buying a New Car
Some buyers opt for a new car every time; others prefer one a little older to minimise depreciation perhaps. There isn't a right or wrong answer: both have their advantages…and disadvantages.
There is no denying the appeal of a new car, pristine and shiny as it rolls out of the showroom. It will come with a full manufacturer's warranty for peace of mind, doesn't need an MOT test until it is three years old and the buyer will normally have the full choice of model, trim level, colours and optional extras.
Manufacturers also make it as easy as possible on the pocket too, with various schemes and incentives: they often come with more favourable finance deals compared to used cars, sometimes even with zero interest. And the risk of buying one with a dodgy history is of course virtually nil.
Depreciation - The reduction of the car's value over time - is many people's main reason for avoiding a brand new car. Cars depreciate most in their first few years but some makes and models fare better than others. A reasonable car will lose about half its value over three years; a poorly depreciating car may lose over 70%.
Finance schemes take this into account and even the trim level can make a difference to a car's value after say three years. Cars with a higher specification usually maintain their value better than those with fewer features.
The new car buyer should also consider exactly how new that new car is. It may well have just rolled off a production line somewhere but vehicles are only updated, visually refreshed or replaced by all-new models every few years. It is, therefore, worth knowing where a car is in its lifecycle. While this may be immaterial to some buyers, it can make a difference in a number of ways.
A car coming toward the end of its lifecycle is more likely to have discounts or extra equipment added to maintain its appeal. However, aspects such as safety features and technology maybe three to five years behind that of an all-new model.
An all-new car model will carry additional desirability with the latest design, features and technology but higher demand could mean less favourable finance deals for example. Remember too that engines can also evolve over a car's lifecycle so can affect the desirability and of course price - both at time of purchase and when it comes to selling.
As with any product, it pays to shop around with franchises, independents and car supermarkets all vying for your business. And don't dismiss the new car as necessarily being more expensive. Of course, it might be, although with a good finance deal and packaged with free services or even insurance, it always pays to do the maths.
Buying a Used Car
Finances may not allow the luxury of a new car but buying a used vehicle rather than new may simply be a matter of choice. While the careful buyer may well get a good deal on a new model, the reality is that new cars lose much of their value over the first years of ownership. So buying a car where the previous owner or owners have effectively paid for this drop in value can make excellent sense.
For cars which are still current models, prices may remain higher than for previous generations. More exclusive cars or those recognised as being desirable for a particular reason such as high performance or great economy will also hold their values too.
There are still finance options available on most used vehicles, and many are cleaned and checked to a good standard at both used car outlets and franchised dealer networks. And if not bought privately or from an auction, you will be covered by the consumer rights act and it is also easy to take out an independent warranty if the manufacturer's one has expired.
The downside, of course, is that while there are many cars available, your choice may be limited to what is available at the time you are looking. So the overall condition of the car will be key and you might have to be prepared to compromise on the exact trim level or colour.
Remember too that technology is moving along rapidly and even Bluetooth connectivity to operate a mobile phone hands-free - now fitted to almost every new car - was still just an option on many vehicles just five or seven years ago.
The biggest concern with any used car is, of course, its history. That risk can be mitigated by using a vehicle checking service such as My Car Check which will highlight whether or not a vehicle is stolen, has outstanding finance, has been written off and even the results of previous MOTs if applicable. For more information, read our articles on car buying scams (and how to avoid them!) and your rights when buying a car.
Approved Used Car Schemes Explained
When it comes to buying a used car, there is always an element of risk. Some risks can be mitigated by services such as My Car Check which provide a detailed history check. But manufacturers have also cottoned on to buyers' uncertainties when it comes to used car buying and have set up approved used car schemes.
The cars won't necessarily be the cheapest, but come with perhaps a year's warranty and will have been very carefully selected from the used market. Many of these will be cars known to the dealers and are often single owner, low mileage models with a full service history. The dealers will do comprehensive checks on the cars and also history checks to ensure they have confidence in the vehicles they are selling through the schemes.
With the rise in personal contract purchase (PCP) and personal contract hire (PCH) schemes where there are strict rules about the condition of a vehicle's return - including mileage and even the most minor damage - it does mean there are plenty of two or three year old cars in good condition for sale under these approved schemes.
Expert articles on Identifying the right car
thinking about buying your next vehicle?
search
It's never easy choosing your next car, a vehicle check can help you be confident you're making the right choice. We help take the stress out of making that key car buying decision by providing you with the critical information you need.
check
So which vehicle check is right for you? For your initial research the free Factsheet check is ideal. The Basic check is perfect for your shortlist and most importantly, before you buy, get a Comprehensive vehicle check to be completely car confident.
drive
We tell you important information such as if the car is recorded as being stolen, written off, has a loan outstanding on it, and much more. All based on the latest information we've received from trusted sources like the Police, DVLA, MIAFTR and finance firms.