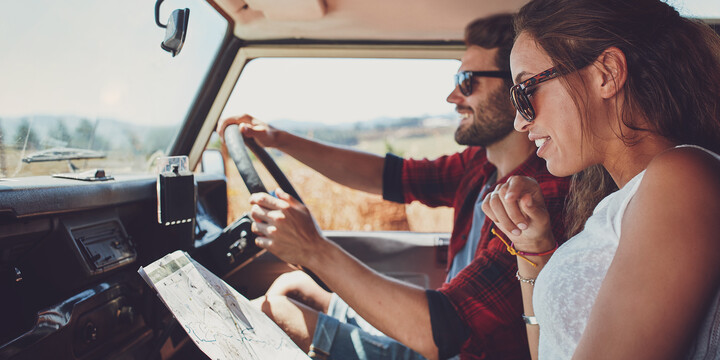 your guide to driving overseas
your guide to driving overseas
Hiring a car on holiday is one of the best ways to get around and explore your chosen destination. However, with different driving laws and street signs, you might be nervous about taking to the road in a foreign country. As a first step you need to familiarise yourself with the national requirements for the country or countries you are visiting as there are likely to be requirements in terms of equipment that you will have to ensure are included with the hire vehicle. You should also check that there are no reasons why you would not be able to hire a car abroad, for example, a previous motoring conviction may prevent you from doing so.
Most people would book their hire car online before travelling which can save time when you reach your destination and would usually confirm that you meet the required criteria. If you are considering taking your own vehicle abroad then it is important again to familiarise yourself with the requirements for the countries you are proposing to travel in i.e. check for any safety equipment that you may need to have. You should also check that your existing UK motor insurance covers you for driving abroad as not all countries are automatically covered so you will need to let your insurer know your plans and where applicable make alternative arrangements for insurance.
In this guide, we'll take a look at some of the elements to consider when driving abroad, from international driving permits to whether you need extra insurance cover for your trip.
What countries require an International Driving Permit?
An International Driving Permit (IDP) could be a requirement depending on which country you are visiting and how long you plan on staying. In order to apply for an IDP, you must have a full UK or Northern Ireland driving license.
You can see a list of countries that require an IDP here but it is worth noting that you do not need one to drive legally in any EU or EEA country until 1st January 2021, when they are likely to change due to the UK leaving the EU.
If you are hiring a vehicle, your chosen car hire company should be able to help you understand which type of permit you will need.
Can you drive across borders in Europe?
Aside from coronavirus-related issues that have of course stopped much international travel over the past few months, driving a hire car across national borders is possible, especially within the EU as things stand. If you have hired a car then you should ensure that the hire company is aware of your plans as you may be required to pay a cross border fee, which will extend your insurance cover so it remains valid for the duration of your trip. If you are taking your own car then again it's important to check in with your insurer what levels of cover apply for each country you are planning to visit.
Discovering multiple countries in one road trip is a great way to explore, but you must remember to tell your rental company your plans because they will need to permit you to take the car outside the country you've rented it from. If you don't tell them your plans, it can invalidate your service agreement which might result in a lack of insurance cover during the time you are in another country.
It is also important to make sure you have all the necessary documentation available to present to border crossing officials.
Does my car insurance cover me in another country?
Currently, all UK car insurance policies should provide overseas cover if you are driving in an EU country, but this is likely to change from January 1st 2021. If you plan on taking your own vehicle to drive overseas, you should think about reviewing the level of cover you have to protect you from things that may not be covered such as breakdowns, theft, vandalism, or accidental damage to your vehicle.
Cover equivalent to Third Party Only in the UK is normally the minimum legal requirement for most countries in the EU. This means damage to third party vehicles is likely to be paid for, but you will need to pay for any damage sustained to your own vehicle yourself unless you have arranged cover for this in advance.
Do I need additional insurance when renting a car?
If you are renting a vehicle, consider taking out excess insurance as car hire companies often have very high excess fees for claims. The downside to taking out car excess insurance is that you may end up having to make two claims; the hire company will make one (which you may be included in), then you would have to make your own claim to have your excess repaid.
If you are hiring a car and are able to, it is worth booking online in advance of your trip as most providers set things out very clearly, such as additional insurance, which can often be confusing and more expensive when you arrive at your destination.
There are also options for daily or annual hire car insurance, so if you are a habitual road tripper, you might consider looking into a yearly policy to save money.
Can I drive in the UK with an EU license?
Any person with a valid driving licence issued in their country of origin is permitted to drive in the UK for at least 12 months. After this period, you will need to exchange your documents for a UK licence or pass the DVSA's UK driving test.
Bear in mind to drive a car legally in the UK you must be at least 17 years old and at least 21 years old to drive a lorry or a bus.
If you are buying a car and need to know more about its past, get a vehicle check with us and receive peace of mind in minutes.
thinking about buying your next vehicle?
search
It's never easy choosing your next car, a vehicle check can help you be confident you're making the right choice. We help take the stress out of making that key car buying decision by providing you with the critical information you need.
check
So which vehicle check is right for you? For your initial research the free Factsheet check is ideal. The Basic check is perfect for your shortlist and most importantly, before you buy, get a Comprehensive vehicle check to be completely car confident.
drive
We tell you important information such as if the car is recorded as being stolen, written off, has a loan outstanding on it, and much more. All based on the latest information we've received from trusted sources like the Police, DVLA, MIAFTR and finance firms.